TJ's 30th Anniversary Celebration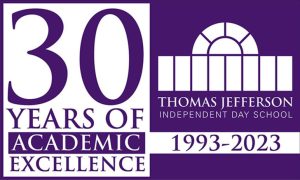 Kickoff Weekend
October 7 & 8, 2022
We're celebrating 30 years of success at Thomas Jefferson Independent Day School, and since you are an important part of this community, we want you and your family to be here for the festivities.
We have exciting activities scheduled, and it will be a great opportunity to reconnect with old friends and former teachers. An overview of the schedule is below, and we will post updates regularly on this page.
Friday, October 7, 7 p.m.
Alumni and Alumni Parent Gathering
Tropicana Bar and Grill – 2402 S. Main Street, Joplin
Reconnect with TJ classmates and friends over drinks and appetizers. Owned by a current TJ family, Tropicana Bar and Grill looks forward to welcoming and serving our alumni community.
Saturday, October 8, 9 a.m.
Family Pancake Breakfast
TJ Fieldhouse
Join us for a pancake breakfast served up by the famous Chris Cakes master pancake flippers, and stay to enjoy games and activities for the kids. Inflatables from Joplin's House of Bounce will be on site to provide fun for all ages.
Saturday, October 8, 7 p.m.
30th Anniversary Gala Concert
TJ Concert Hall
Gather for an evening of incredible performances from our current music ensembles, as well as special appearances from our talented alumni musicians. We will also recognize key community members who helped shape TJ's success over the past 30 years.
RSVP for 30th Anniversary Kickoff Events Here:
Watch this 30th Anniversary Presentation: