"My TJ experience gave me a passion for science and service, which translated to my success so far in Bio-engineering and receiving the National Science Foundation Graduate Research Fellowship."
Alex, TJ Class of 2005
"TJ gives you a challenging environment that allows you to learn materials and also to master them. TJ instilled in me the study habits and the drive to want to learn more and also perform well in the classroom."
Aaron, TJ Class of 2019
"TJ fostered curiosity and gave me many opportunities to try things that I probably could not have in a different environment."
Kathy, TJ Class of 2000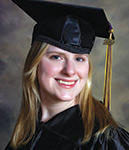 "It took less than a semester of college to discover that TJ had done what several of my friends deemed impossible: It made college easy."
Virginia, TJ Class of 2009